10 LED Light Flashing Glow Balloons Birthday Halloween Festival and Wedding Decorations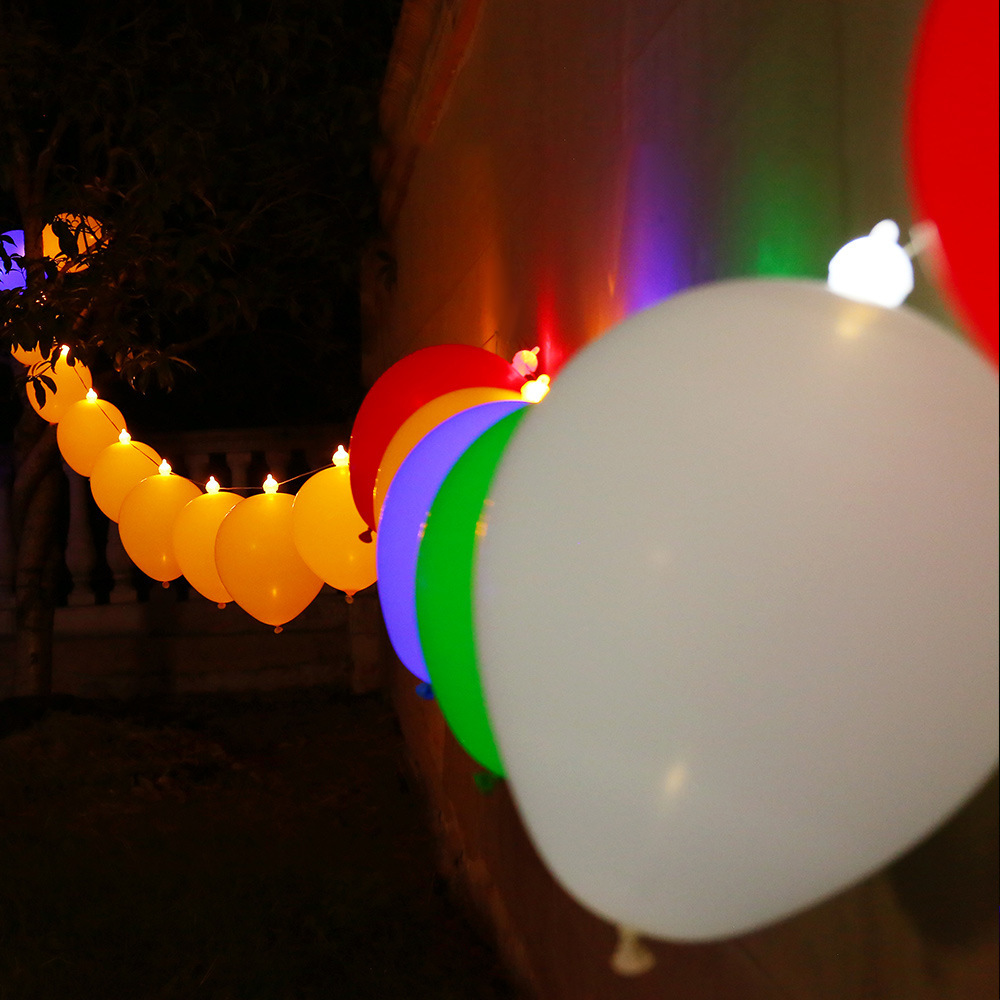 【Remote Control Timing Switch】The lighting balloon can be switched by the remote controller. It can be turned on after 1, 3 and 5 hours and turned off after 3, 5 and 8 hours. When you want to create a romantic and warm surprise scene, snap your fingers and the atmosphere light will shine properly. Perfect!
【Remote Control】Click the control switch. The mode of the luminous balloon can be adjusted within a range of 4 meters. There are 10 different lighting modes. Mode 1: the whole changes slowly from dark to bright. Mode 2: the whole black light flickers Mode 3: Change on both sides. Mode 4: speed up change. Mode 5: slow down the change speed. Both sides of mode 6-9 flicker alternately at different speeds. Mode 10: normally on.
【Light up When There is Power】At present, most of the luminous balls on the market are greatly affected by the battery power. Our LED balloon has made a new upgrade in the use time. It connects the home power or mobile power through USB, so that you can use it anytime and anywhere when you need it, without being affected by insufficient battery.
【High Quality Balloon-Reusable】The enlarged balloon is composed of high-density thickened rubber material, which not only improves the compression resistance, but also is more durable and can be used for many times. There are also two backup batteries.
【Multi-function LED Balloon】These innovative Colorful Light up balloons are also great decoration for House Party, Birthday, Wedding, Christmas, Anniversary, Dance Club, Housewarming, Easter day, Valentine's Day, First Communion, Bachelorette Party, Baby Shower, Farewell Party, Superbowl Party, Oscar Party, Holiday Party, Theme Party, Graduation Party, 80's Party, Wine Party or any other special occasion worth celebrating.
Product information

The distance between the balloons is 40cm (minus the LED light box 3*3 cm, the distance between the two balls is about 30-35cm);
Single string of 10 lights, one light and one balloon;
Add the last lead 1.5 meters,
The total length is 5.1 meters per string.
Colors: White, red, yellow, blue, green, Mixed color
Occasions:Bachelorette Party, Easter, Wedding, Christmas, Graduation, Communion, Baby Shower, Housewarming, Anniversary, Birthday, Halloween, Valentine's Day