BRING THE WONDER OF SPACE INTO YOUR HOME WITH ASTRO STAR!
The magic of Galaxy Astronaut Projector begins with projecting a starry sky onto your ceiling anytime, anywhere creating an amazing atmosphere that is not only beautiful but also relaxing! The Galaxy Astronaut Projector is great for any space in your home and makes the perfect addition to any room. It is the perfect nightlight for kids!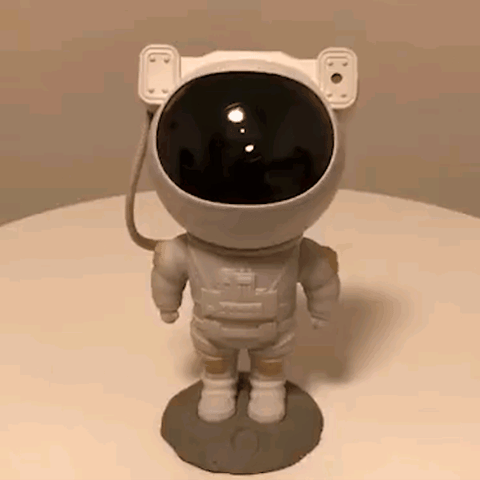 FEATURE:
Multiple Galaxy Effects - A variety of 8 different nebula effects to choose from
Smart Controls - The brightness and speed of the stars are adjustable
Multi-Function - Nebula and Starlight can be used at the same time or separately
Effortless Timing - Two timing modes: 40min, 90min
360° Projection - Fully adjustable projection angle
REMOTE CONTROL & TIMER
The astronaut starry sky projection lamp with remote control can control the on/off of the modes of nebula and starlight. You can adjust the brightness, change the light mode, and it can display a variety of nebula effects. And you can also adjust the speed and brightness of the nebula.
Two-timing modes: about 40min and about 90min, automatic shutdown, you can easily access these settings without getting up.
ONE LAMP, 8 PROJECTION EFFECTS
Each AstroPro Star can be adjusted to a different colour sky with a simple touch of the remote!
EASY TO USE
The head of the astronaut projection lamp can be moved and disassembled, and the starry sky and nebula lights can be projected at any angle at will, providing a wonderful and dreamy environment for your monotonous bedroom or game room.
1. 360 degree rotating head that's magnetically removable
2. 45 or 90 minute timer modes to automatically turn off your astronaut projector!
3. Movable Arms to get the perfect action shot.
4. Adjustable brightness and galaxy speed with up to 8 galaxy colors!