All for convenience. Outdoor camping chairs here for you.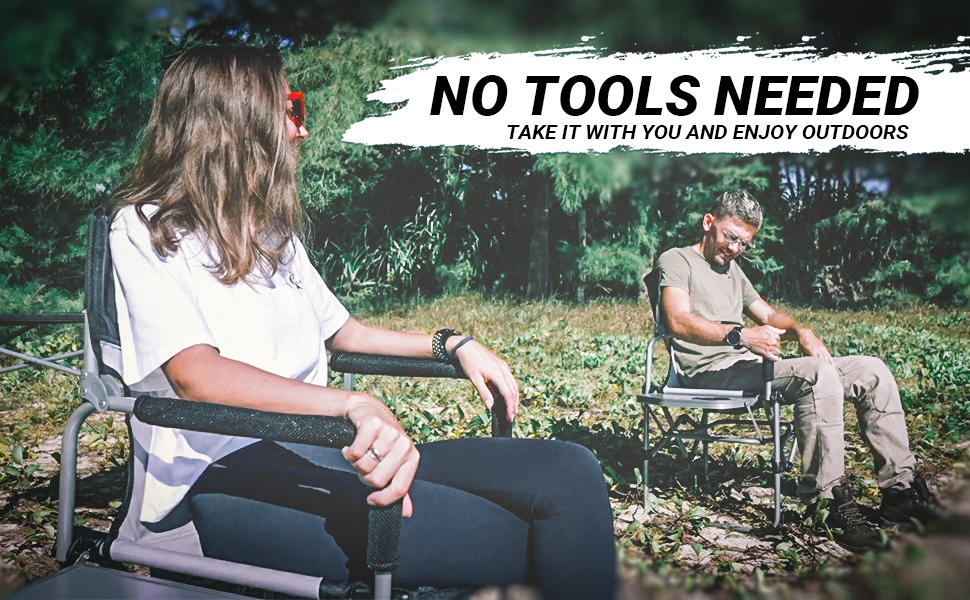 FOLDED SIZE IS SMALLER THAN OTHER DIRECTORS CHAIRS!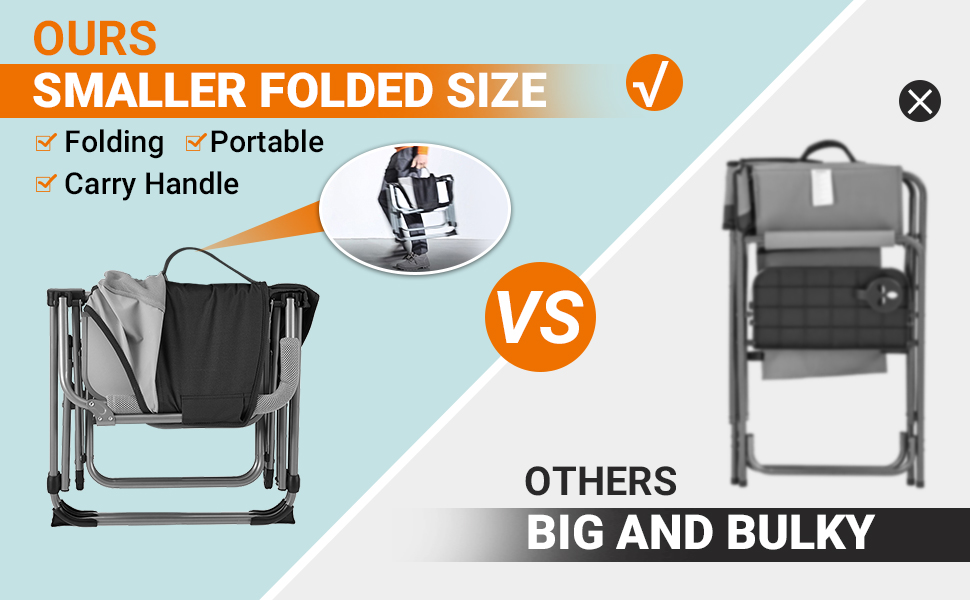 About this item
FOLDED SIZE IS SMALLER THAN OTHER DIRECTORS CHAIRS! Folded size 19.6"×19.6"×5.9". Heavy duty steel frame ensures good stability and load-bearing capacity(300 LBS). Upgraded support structure. NO tools needed
Study Oxford fabric and padded back. The seat surface is breathable mesh for cool summer. Stylish design of the folding camping chair make you stand out. The trick for opening and folding the camping chair is the frame in the middle of the side of the chair
Seat width 20.8", height 18.5", friendly to those with knee problems, padded armrests for getting up easily. Waterproof spray paint frame, make the outdoor chair withstand the wind and sun
Built-in cup holder. Your phone, snacks, and sunglasses can be placed on the folding side table. A grip behind the back of the camping chair, convenient to carry it outdoors
Take the camping chairs to outdoors and enjoy leisure time. Outdoor adventures, tailgating, fishing, backpacking, beach, picnic, sport games, car travelling, or just put it in the backyard, cabin, balcony, patio lawn parties. A holiday gift for everyone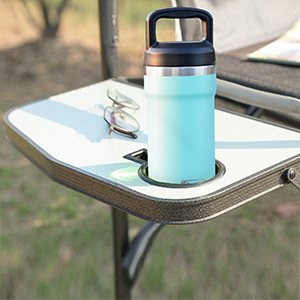 Flip down side table
For keeping beverages and water bottles on sunny outdoor days.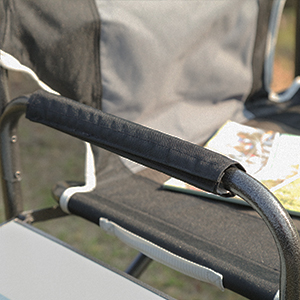 Foam padded armrests
Protected armrest with coat gives your great experience for relaxing.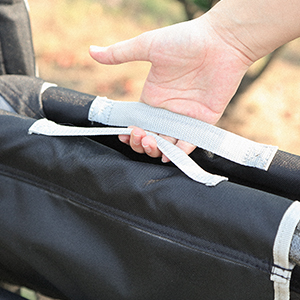 Including carry strap
Added the friendly design- carry strap on the right side of the chair so that you can carry more convenient wherever you go.
Specifictions:
Set up size: 25 1/4 x 18 1/2 x 35 1/4 inches
Folded size: 20 x 33 1/2 x 5 1/2 inches
Off ground seat height: 18 1/4 inches
Back height: 17 inches
Chair width: 25 inches
Weight: 6 pounds
Weight capacity: 300 pounds
Customer Questions & Answers
Q: Can the cooler and cup holder tray be folded down while sitting in the chair?
A: Yes, it can- the only thing I don't like about the chair is my wine glass doesn't fit. Otherwise this is perfect chair- much more sturdy than thie canvas chairs. Also, I can get out of it very easily. Worth every penny
Q: Can cup holder tray go on the left side?
A: No it is bolted to the arm
Q: how do you fold it up?
A: You stand on the side with your foot on the bottom and pull up the middle of the seat. It was hard at first, but the chair is very sturdy and I don't want it to open and close like the cheap ones(opening is easy as is pulling up the table and using the cooler). Definitely worth the money
Q: Is the chair assembled upon arrival?
A: Yes, mine were fully assembled. They are a bit stiff to unfold initially, but they are really comfortable chairs, and pack great, due to being almost flat when folded.