"Stop what you're doing. Get this ♻Reusable Folding Cup. Save the planet." 🌎👏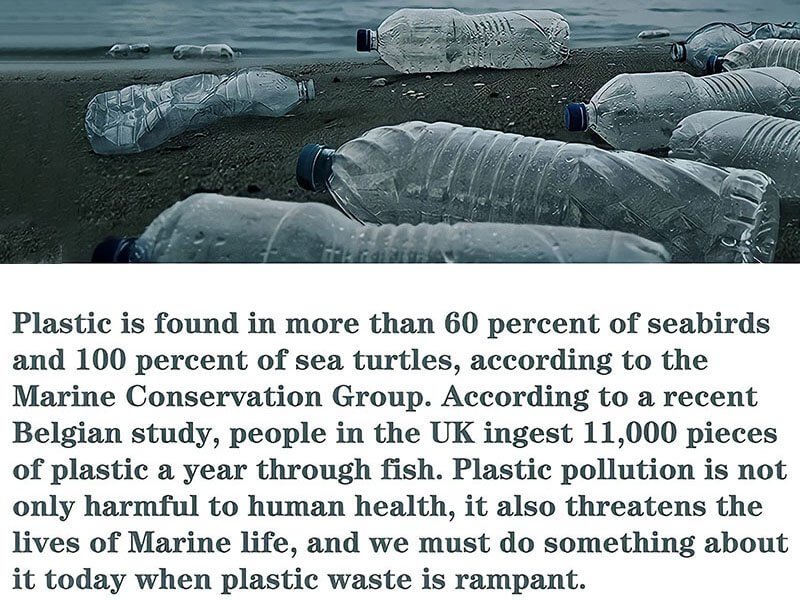 🥤 Safe and Healthy -- Made of 100% food-grade PP material, BPA free and FDA approved, Our travel cup is not only Non-toxic and tasteless but also environmentally friendly, you can use it repeatedly.
🥤 Pocket Size, Easy to Carry -- Collapsible design, tiny size for space-saving. When collapsed, the camping cup can well fit your Pocket, Backpack, Suitcase and takes up no space, ideal for outdoor hiking, camping, travel, and sports events.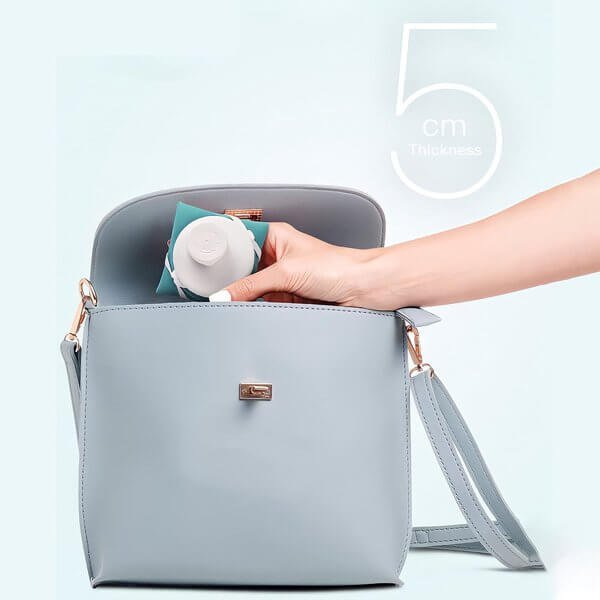 🥤 Heat Resistant & Durable -- Our collapsible drinking cup Can Withstand a temperature range from -40 degrees F to 200 degrees F, is extremely heat & cold resistant, and Suitable for cold drinks, tea, coffee, and hot beverages. The dishwasher & freezer is safe.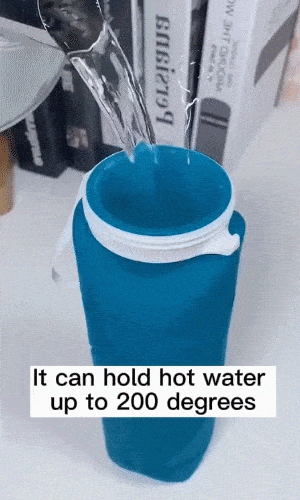 🥤 Unique Design -- Can be conveniently hung on the bag With a hand rope and portable hook; Easy to read with the measuring inside of the cup; Tight lid fits neatly and keeps the cup clean; The metal rim stabilizes the cup and keeps it in shape, much easier to hold and drink from.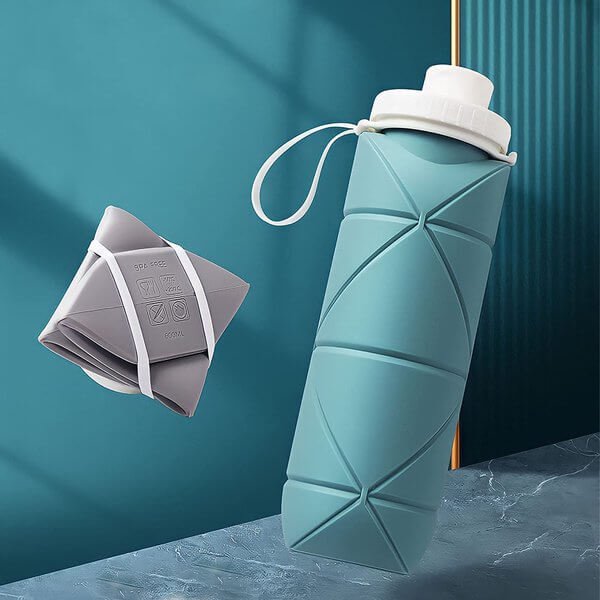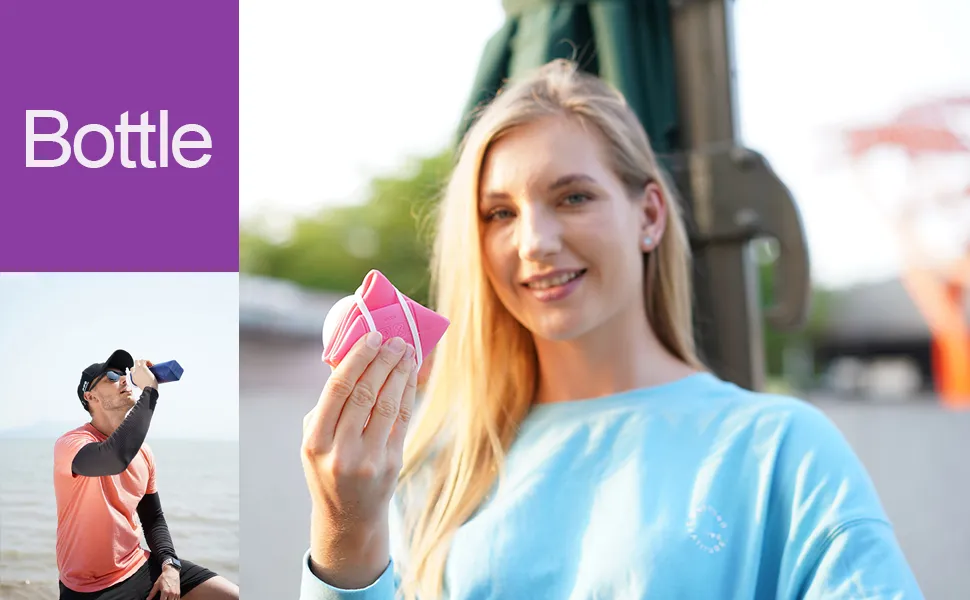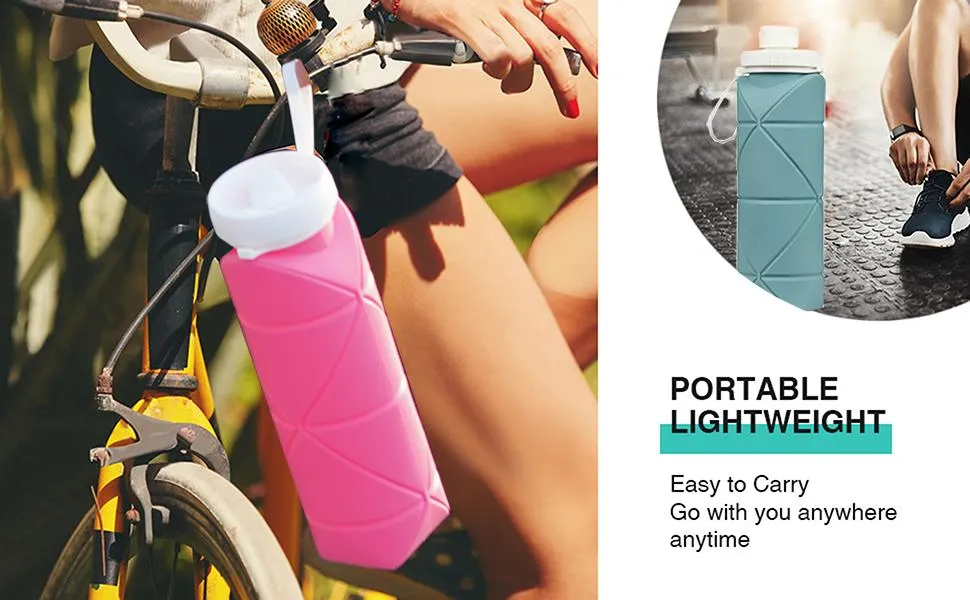 Tired of bulky water bottles leaking in your bags?
A lot of people are always on-the-go, raising the need for more portable and convenient items. Since food and water are basic human necessities, packaged food and bottled beverages have become a staple for busy individuals.
We usually toss our unnecessarily large water bottles in our bags and think nothing of it. By the time lunch rolls around, you open your backpack, tote bag or designer purse, and find out you've created a lake right under your nose.
Keep your things safe and dry with the help of a Our Collapsible Silicone Water Bottle!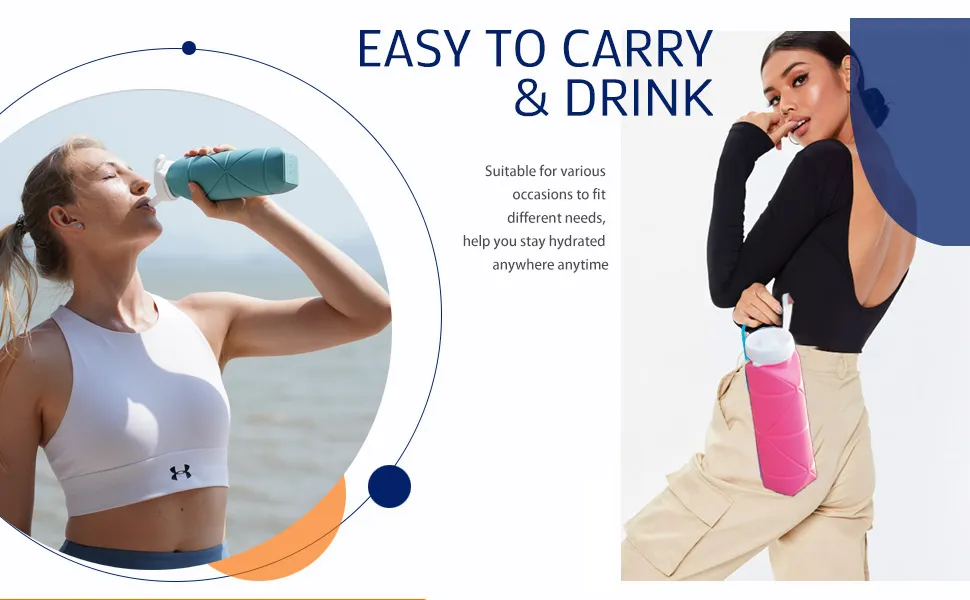 The Best Collapsible Water Bottles That Won't Take up Space in Your Bag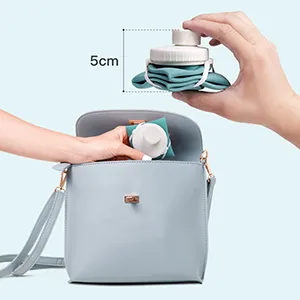 Capacity:600ml(20.2oz)
Weight:135g
Materials:PP,food-grade silica gel
Color:Green/Grey/Rose-red/Blue
Product Size:
Size:22cm bottle body, 2.5cm bottle cap, 7cm cup diameter
Unfold: 7*7*24.5cm;
Fold: 7*7*5cm
Packing size: 8*8*7cm
Duration: 3years or above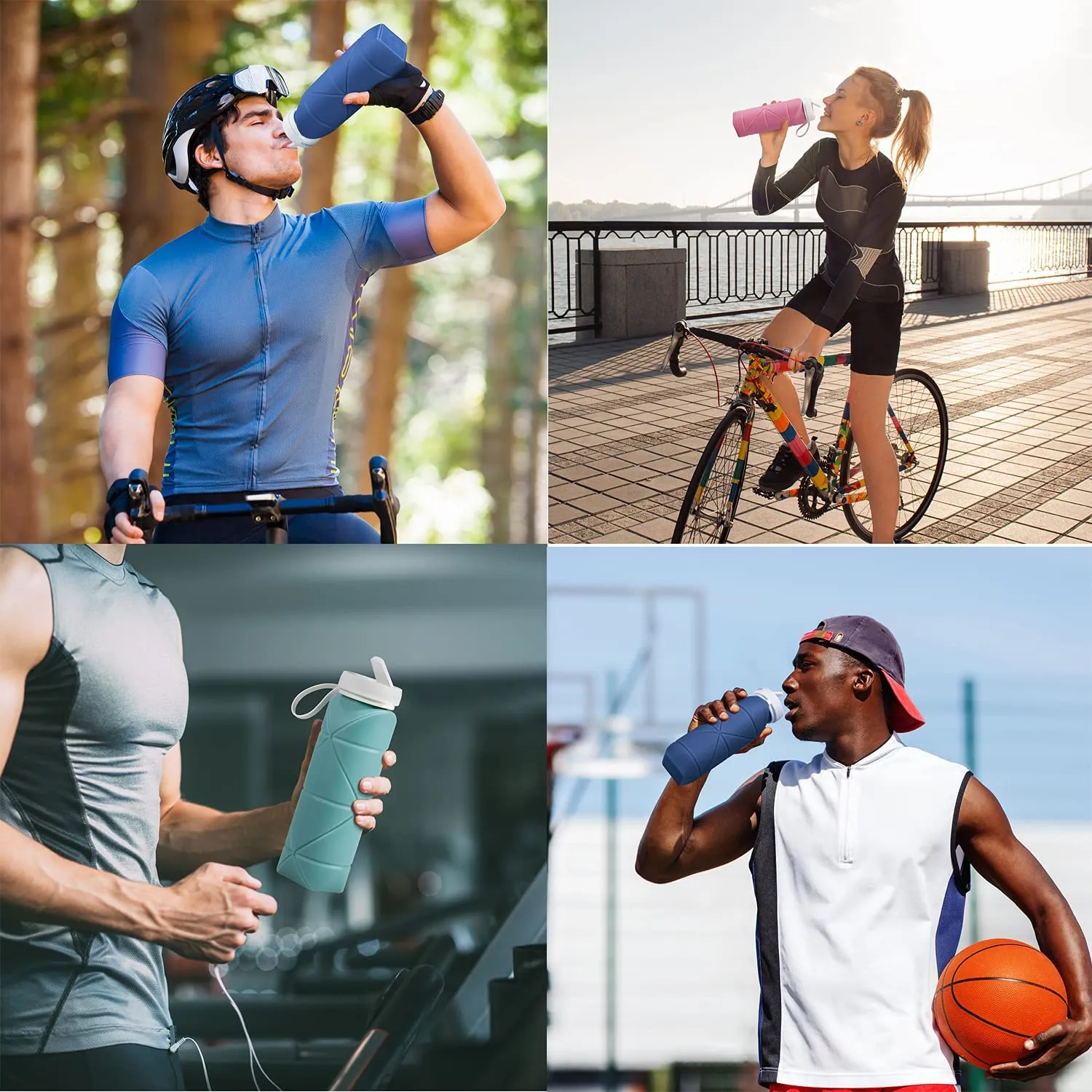 Sport Design
The most convenient method of providing hydration during most forms of exercise is a water bottle. This is the perfect compromise between utility and convenience; they usually offer enough of a capacity for the liquid to facilitate the average workout session and they're portable enough to be stored in a backpack or gym bag. However, some variations on this popular model have produced interesting results, such as a reusable water bottle that can be collapsed into an even smaller form when they're empty.
The Collapsiable Water Bottle was designed to fit in your pocket, purse, backpack, or briefcase. Unlike rigid water bottles that are full of hot air when empty, it is foldable and can be rolled, folded or flattened and tucked away. This means it goes more places and fits in tighter spaces than any other bottle.
1.HEALTHY & SAFE MATERIAL
Made of thick and flexible BPA-free silicone, the reusable water bottle maintains its sturdy feel for a comfortable drinking experience, made of 100% food-grade materials;
Free of BPA, BPS, PVC, phthalates, lead, latex, and other harmful leaching chemicals.
enough to survive accidental drops,
also makes it safe to drink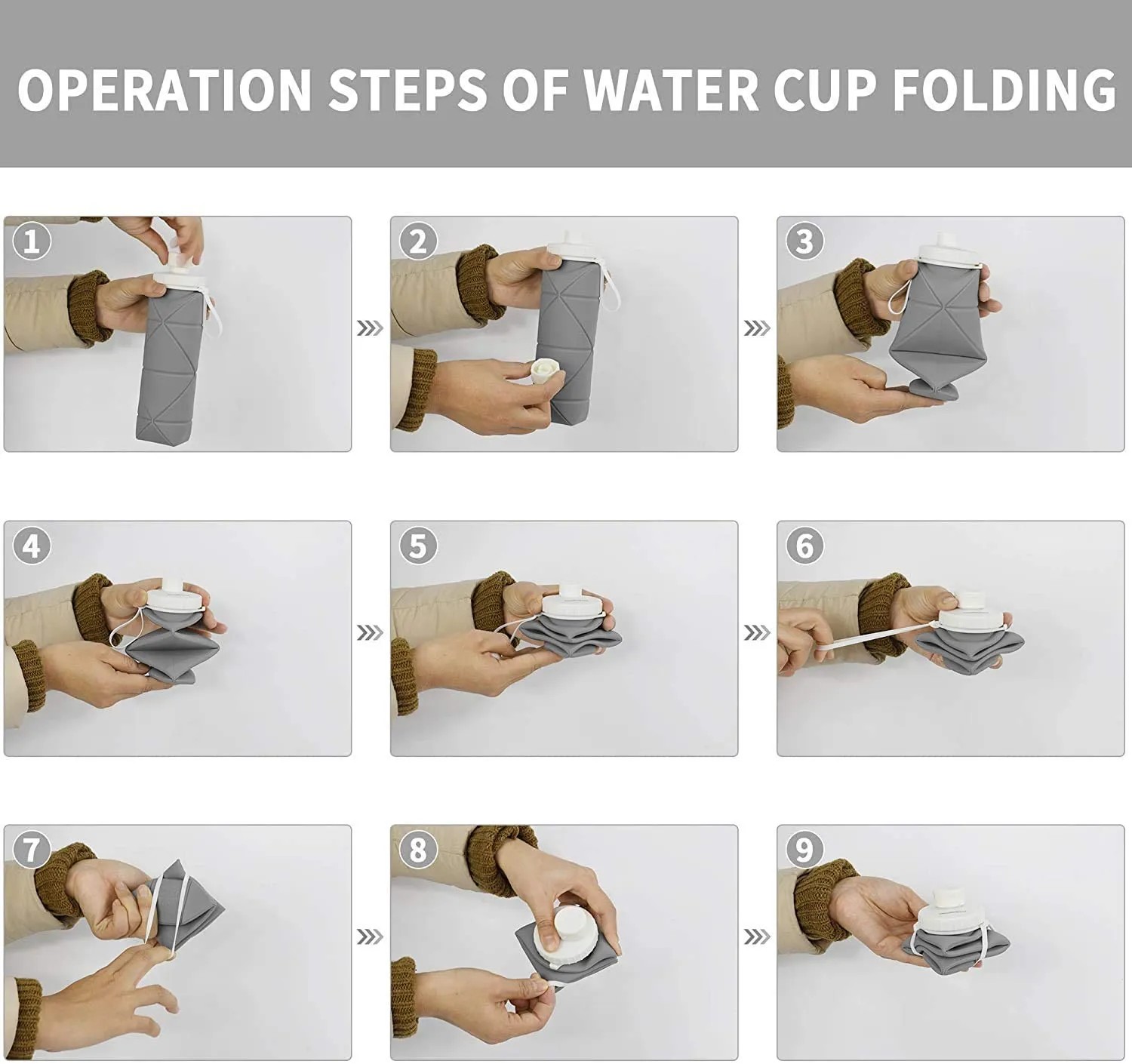 2.PORTABLE
sturdy and comfortable to drink from; rolls up for compact travel; loops around your wrist for easy carry; attaches to your bag for quick access.
It conveniently rolls up or squashes down when space is tight.
Attached multi-function strap secures the flask in its folded position and makes it easy to carry when you're on-the-go.
Freezable, heat resistant
Flexible, shatterproof silicone
Ergonomic concave-convex design, easy to grasp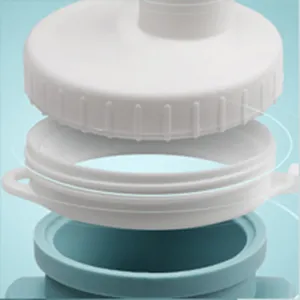 3.Leak Proof Guaranteed
The patented screw cap design ensures a secure, airtight seal when closed and controlled intake when open.
In between sips, the hinged cap doubles as a hygienic spout cover, preventing from getting onto the mouth piece and into your drink--handy for when traveling, spending time outdoors, at the gym, or for kids at school.
100% leak-proof design to prevent annoying spills
Wide mouth lid makes cleaning easier
Convenient to drink water or add ice cubes and lemon slice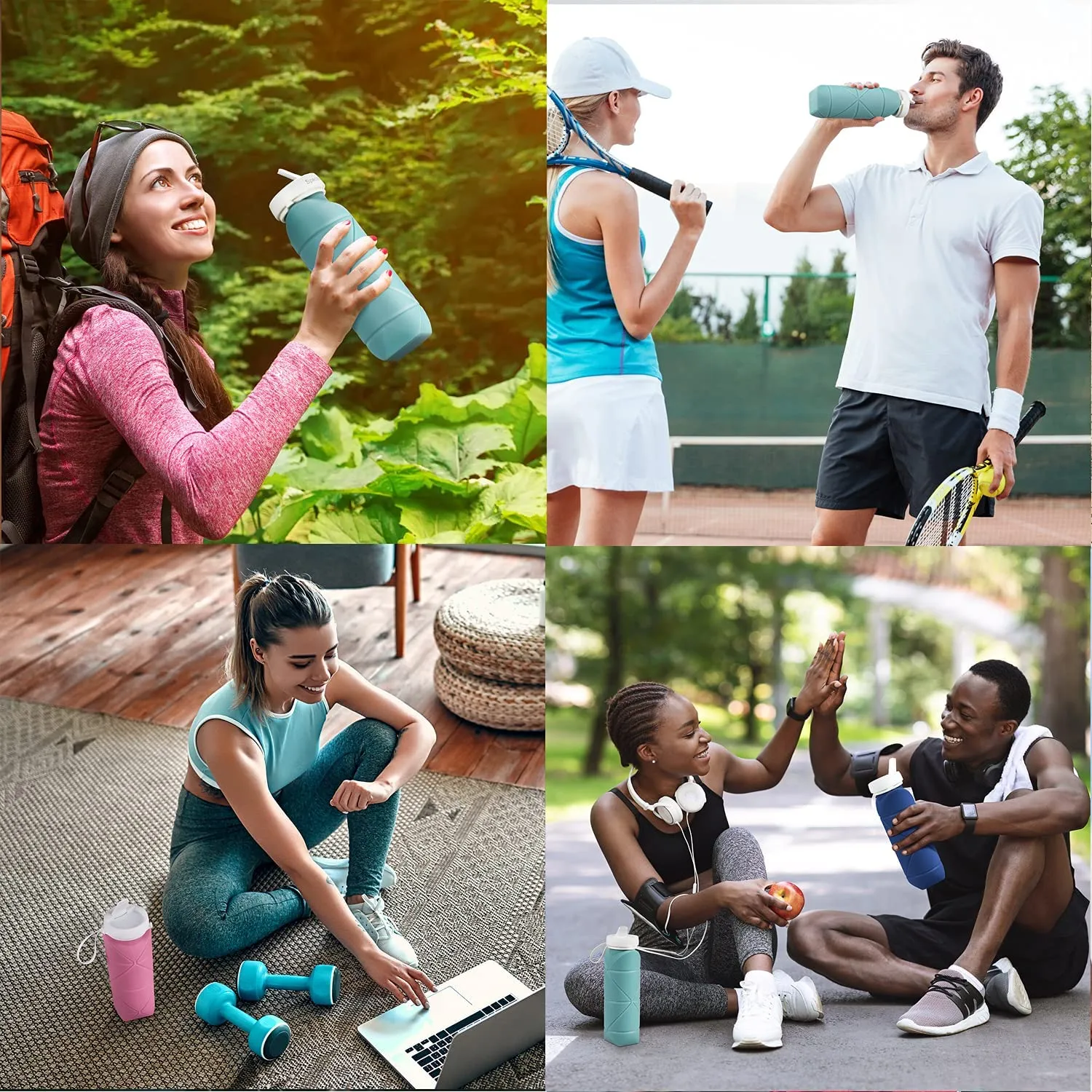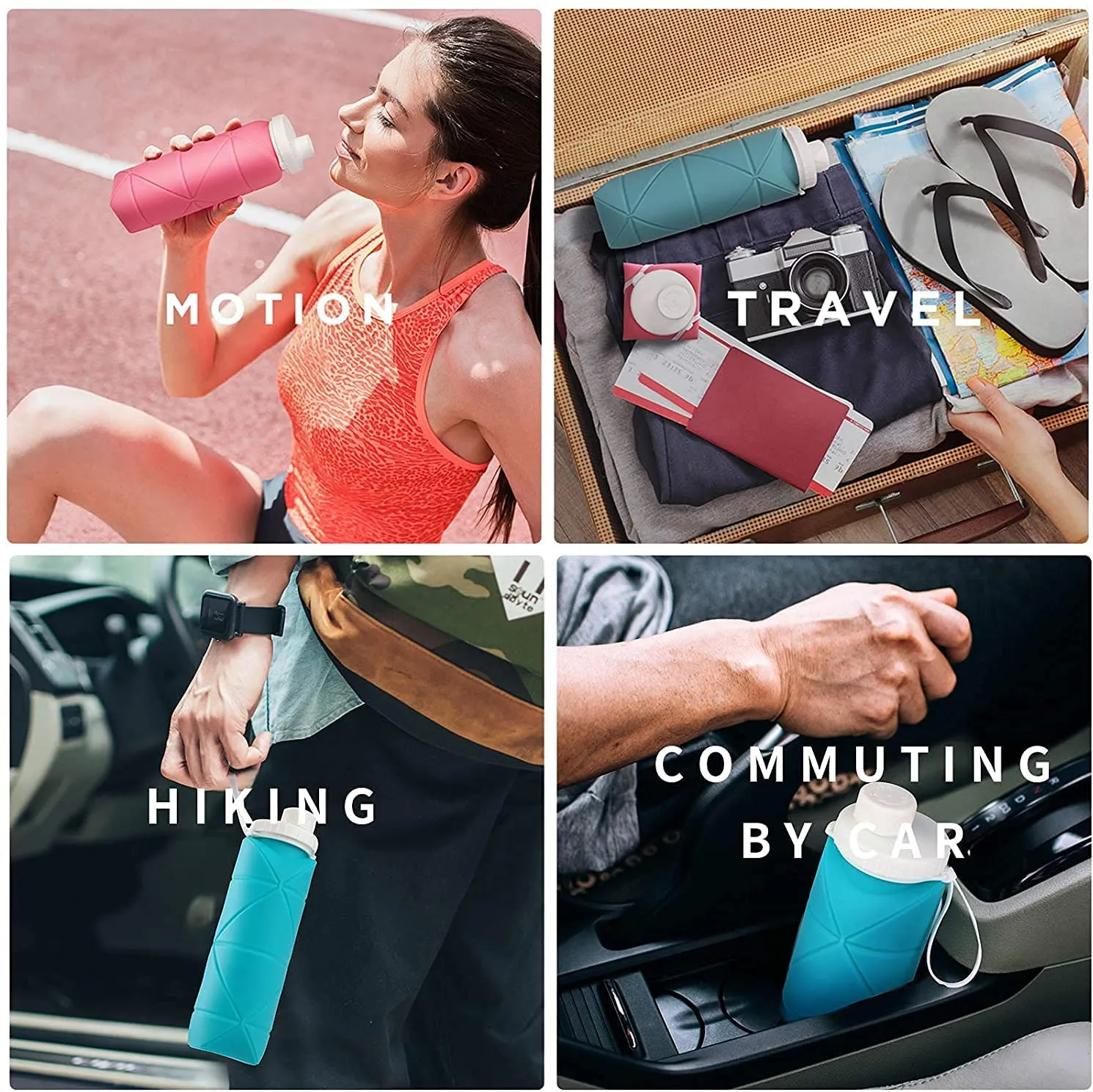 Daily/Indoor:
Daily/Indoor: This bottle is all you need to keep you hydrated while on-the-go, portable and the right size for you to hold your drinkable water for the day.Perfect choice for travelers who often catch flights.
Package Included:
1 * Water Bottle ;
1 * Packing Box