DESCRIPTION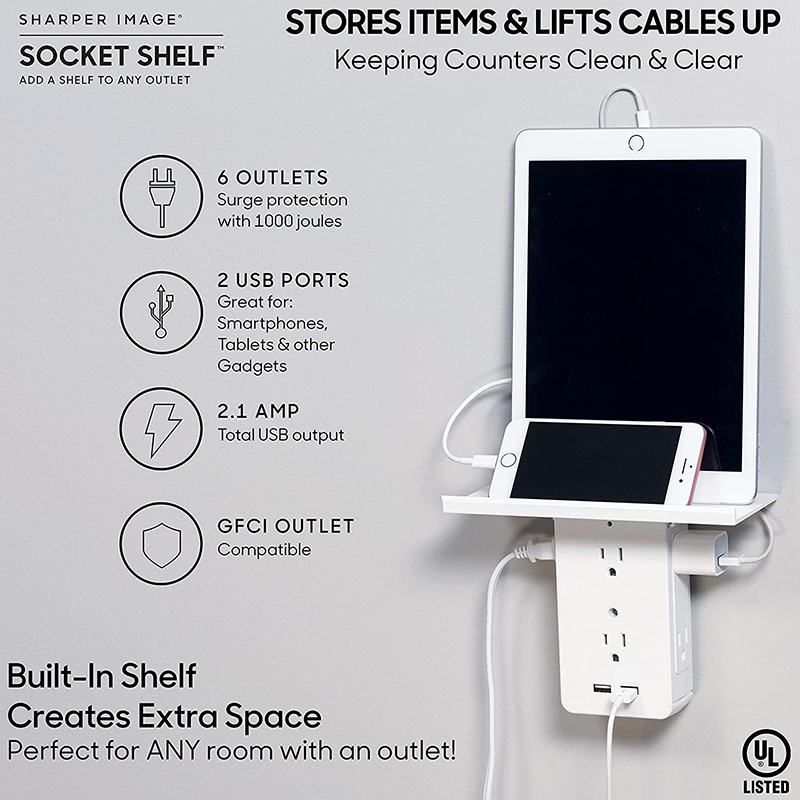 Socket Shelf by Sharper Image, the incredible new wall outlet expander that adds a shelf to any outlet for clutter free counters. It features a built-in storage shelf keeping all your electronics safe, organized and fully charged. Plus, it quadruples your power with 6 outlets and 2 USB ports! Can be used on any standard outlet, with no installation required. Keep toothbrushes and toothpaste within kids' reach while keeping bathroom countertops clean. Perfect for following recipes in the kitchen, keeping your phone close and charged in the bedroom or the garage. UL listed with surge protection and has a 180 degree outlet design, so it's easy, safe, and convenient.
FEATURES
TRIPLES YOUR POWER & creates a powerful charging station. Charge up to 8 devices using the 6 wide spaced AC Outlets, and 2 USB Ports deliver 2.1 Amp shared total output. Never worry about your devices charging because an indicator light confirms the 1000 Joule Surge Protection. UL Listed, compatible with GFCI outlets.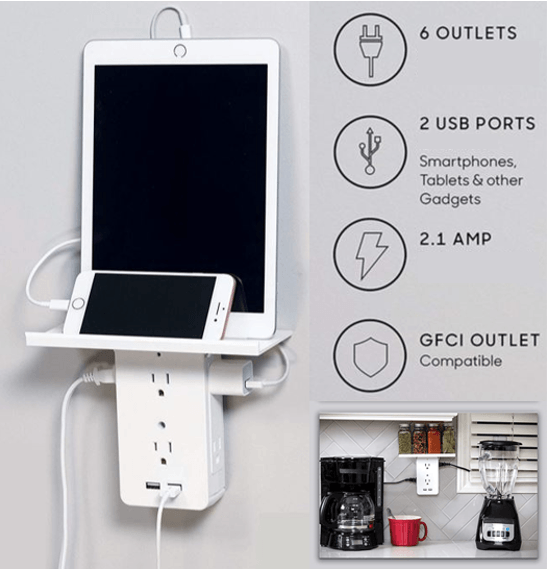 BUILT IN SHELF Creates extra space where you need it most Bathrooms, Bedrooms, Kitchens, Living Rooms & more! The 8" x 3.25" shelf is great for storing your items & lifting cables to keep your counters clean & clear.
EASY TO INSTALL just plug Socket Shelf into most 3 prong outlets & you transform your outlet to a wall mounted power strip with a shelf. Socket Shelf will not plug into two prong non-grounded outlets. Socket Shelf can be used as a surge protector device on horizontal outlets however the shelf is not compatible. Once properly plugged in the LED Ground light will illuminate.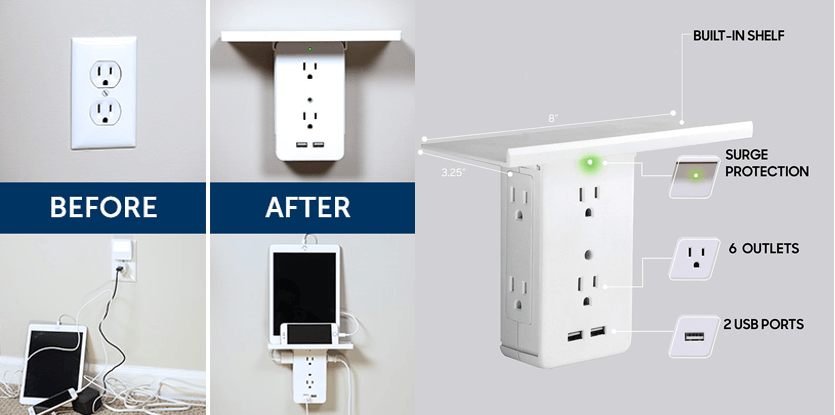 MULTIFUNCTIONAL Socket Shelf adds a shelf to outlets and can hold a variety of household items including iPhones, Androids, smartphones, tablets, laptops, electric toothbrushes, Sonos, Google Home, Alexa, razors, toothpaste, spices, and so much more!
SOCKET SHELF by Sharper Image add a shelf to any outlet! You will receive 1 base and 1 shelf. You will turn a cluttered mess into an organized success!
Add a charging and docking station to any room.

Store items and lift cords to keep counters clean and clear.